Call for art/crafts by health sciences students, employees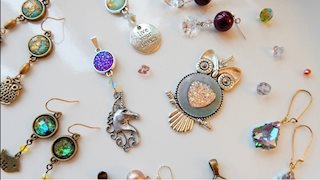 We want to know about the handmade art and crafts that WVU health professionals are making!

Any part- or full-time Health Sciences staff, faculty or students may submit ready-to-display craftwork of any media or theme for the Art in the Libraries exhibition. All levels will be considered.

The facilities include limited wall space and display cases in the Health Sciences Library located on the second floor of the Health Sciences Center. There is ample natural and artificial overhead lighting. Traffic includes medical undergraduate, graduate students, faculty and other professionals in the health and medical field as well as prominent campus visitors and others using the library facilities.

Contributors are responsible for transporting craftwork to and from the Library if their work is accepted. Libraries hold the University insurance if loan form is filled out and signed, though security is limited to the access services staff of the Library during open hours.

To participate: Contact WVU Libraries Exhibits Coordinator, Sally Deskins, sbdeskins@mail.wvu.edu, 304-293-0369. Feel free to send images, ideas, websites, etc. by May 31, 2019, with the media, size, description and your title/department.

Submissions will be juried by the Art in the Libraries committee. Response to submissions will be made via email by June 30, 2019. The exhibition will run approximately August 15 thru December 30, 2019, with a reception to be announced.