Cancer Prevention and Control staff member chosen for George Washington Cancer Center's Mentorship Program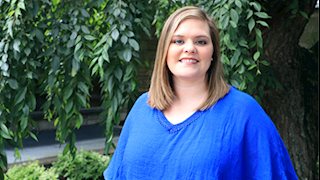 CPC is proud to announce that Lauren Hixenbaugh, MBA was recently invited to participate in the George Washington (GW) Cancer Center's Mentorship Program. As a national facilitator for CDC, the GW Cancer Center is pairing qualified staff with mentors to enhance the impact of their work. Lauren will be working with a faculty member from the University of California.
The GW Cancer Center's mentorship program is based on the National Cancer Institute's Research to Reality (R2R) Mentorship Program and maintains R2R's approach and emphasis on using evidence to guide practice. Mentees in the program engage in the following key activities:
Increase skills in core public health competency areas,
Facilitate completion of high-quality projects related to Comprehensive Cancer Control plan objectives,
Encourage the use and spread of evidence-based practices, and
Provide opportunities for networking and collaborative learning.
The Program kicks off with a two-day meeting in August in Washington, DC.
As a facilitator of the West Virginia Mountains of Hope (MOH) Cancer Coalition with over 200 members, Lauren works to coordinate resources and activities with partners throughout the state. The WV Bureau for Public Health contracts with CPC to provide this service. MOH is part of a national network committed to reducing the burden of cancer across the cancer continuum. Each state develops a statewide cancer plan and MOH is actively working to develop the 2021-2025 cancer plan with input from leaders throughout WV. The current WV cancer plan is available online. Reach out to CPC if you are interested in learning more about MOH, the WV Cancer Plan, or any of CPC's programs, at cpc@hsc.wvu.edu.