Graduate student selected for national APHA competition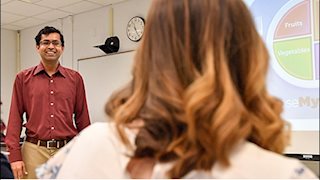 Raihan Khan, a second-year student in Social and Behavioral Sciences, has been selected to present his research at a national competition later this year.
Khan's project, "Can Diabetes Self-Management Program Reduce Diabetes Distress Among Patients?," examines how a 12-week diabetes and hypertension self-management program can reduce diabetes distress among a rural Appalachian population. Khan is one of 28 students selected nationwide to present his poster during the 2018 Delta Omega poster session at the annual meeting of the American Public Health Association (APHA) in San Diego in November.
Student presenters will also receive a certificate and cash prize of $350 from Delta Omega to be presented at the Delta Omega Social Hour/Reception on Monday, November 12.
Authors in addition to Khan include School of Public Health Professor Ranjita Misra, Assistant Professor Sijin Wen, and Professor Usha Sambamoorthi of the School of Pharmacy.