Public Health May graduate ready to apply his skills through prestigious fellowship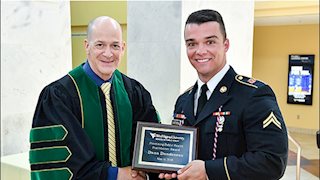 If asked about his plans after graduation this month, WVU School of Public Health graduate Dana Dandeneau won't miss a beat.
Dandeneau, who earned his Master of Public Health degree in Epidemiology last week, will begin a prestigious post-graduate Fellowship with the North Carolina Division of Public Health. He is the first WVU student to be selected for the Council of State and Territorial Epidemiologists Applied Epidemiology Fellowship.
"This Fellowship is a great opportunity for me because I'll be exposed to a wide variety of training and learn to function as a competent and effective epidemiologist," said Dandeneau. "I will leave this Fellowship with the proper training and experience to jump right into a job, which is exciting."
The Applied Epidemiology Fellowship was created through a collaboration between Council of State and Territorial Epidemiologists, the Centers for Disease Control and Prevention, the Association of Schools and Programs of Public Health and the Health Resources and Services Administration.
As part of his Fellowship, Dandeneau will work with North Carolina's Chronic Disease and Injury Section. Designed to provide on-the-job training and mentorship for recent graduates, the Fellowship will allow Dandeneau to engage in injury epidemiology, chronic disease epidemiology, environmental public health and public health preparedness – all under the guidance of experienced mentors.