Students named winners in dental research competition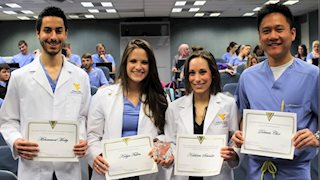 The winners of the School of Dentistry's 2nd Annual Local AADR/Dentsply and 50th annual School of Dentistry Alumni Association Research Competition have been announced.
1st Place

Mohammed Mecky, Katyln Fullen, Kathleen Schessler, Doheum Choi
Using Therapeutic CPAP Levels to Predict Successful Management of Obstructive Sleep Apnea with Oral Appliance Therapy
(Faculty mentor – Dr. Peter Ngan)
2nd place
Michael Petrides, Maranda Kalaskey, CJ Hester
Tooth Color Changes Associated with Pulp Capping Materials Used Under Restorations: A Benchtop Study
(Faculty mentors – Dr. Constance Weiner & Dr. Valerie Perrine)
3rd place
Joseph Finelli, Angela Pelehac, Nate Chertok, Tim Gough
Barriers of Entry for WVU Undergrad Students from Seeking Dental Care at The School of Dentistry Clinic
(Faculty mentor – Dr. Susan Morgan)
Dr. Weiner, research course director, along with lab director Chris Waters and Administrative Associate Morgan Boyles, extended appreciation to Dr. and Mrs. James Caveney and Family Dental Table Clinic Award for honoring the first place team.
The same gratitude goes to the School of Dentistry Alumni Association for honoring the second and third place presenters.