The 54th Van Liere Research Conference will be held March 21, 22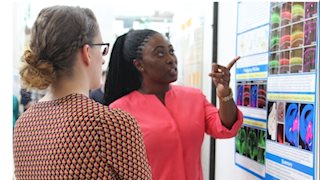 All faculty, students, and staff are encouraged to participate
The 54th Van Liere Research Conference will be held on March 21–22 on the Health Sciences campus. This research conference highlights the research of faculty and students from all schools at the HSC.
Thursday, March 21 will be two flash talk sessions. Each session will have faculty researchers and students giving five minute research presentations, or flash talks, in each of the conference rooms in the Erma Byrd Biomedical Research Building. Areas of interest include research highlights from each school, clinical research, basic science research and conference presentations by students. Session one begins at noon and session two begins at 1 p.m. For the complete schedule, visit the Van Liere Research Conference website.
The undergraduate poster session will also be scheduled for Thursday, March 21 from 2:30–4 p.m. in the Learning Center Commons/Pylons lobby.
Friday, March 22 is the Health Sciences poster session, featuring research from all five schools on the HSC campus. The poster session is scheduled from 9:00–11:30 a.m. in the Learning Center Commons/Pylons lobby.
The Van Liere Keynote lecture on March 22 at noon will feature Dr. David Brailer, healthcare innovation advocate, leader in health information technology and a WVU School of Medicine alumnus.
His lecture is titled "Healthcare in the Digital Era: Implications for Clinicians and Scientists".
Dr. Brailer is a leader in entrepreneurship in health care specifically in the use of health information technology. He is currently the Chairman for Health Evolution, an education and research firm in San Francisco, Calif. Dr. Brailer was appointed by President George W. Bush as the nation's first National Coordinator for Health Information Technology, or most notably the first health IT czar, leading efforts to digitalize healthcare.
All faculty, staff and students are invited to all events.
https://www.hsc.wvu.edu/resoff/van-liere-research-conference/