WVU faculty to champion entrepreneurship education in third IDEA Fellows cohort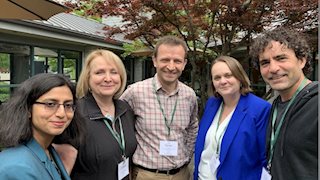 Five new faculty members have been selected by the Office of the Provost following a rigorous application process as the recipients of the 2019-2020 Innovation, Design and Entrepreneurship Academy Faculty Fellowship, a comprehensive initiative to bolster WVU's culture of entrepreneurship and innovation.
The IDEA Fellows recently returned from the Symposium for Entrepreneurship Educators at Babson College in Massachusetts, where they received extensive training on how to effectively teach entrepreneurship in their coursework. Using the knowledge and skills they learned at Babson, each IDEA Fellow will either create a new course or modify an existing one for the coming academic year. As a cohort, the Fellows will work for the next two years to champion entrepreneurship and innovation across the University.
The 2019-2020 IDEA Faculty Fellows are:
Nilanjana Dwibedi, assistant professor, School of Pharmacy
Kenan Hatipoglu, assistant professor, Electrical and Computer Engineering, WVU Tech
Colleen Moretz, associate professor, Fashion, Dress & Merchandising, Davis College of Agriculture, Natural Resources and Design
Craig Nelson, teaching assistant professor, School of Design and Community Development, Davis College of Agriculture, Natural Resources and Design
Lauren Prinzo, community and economic development specialist, Extension Service
"This year's class of IDEA Fellows work in a wide variety of academic disciplines that are key to a prosperous economic future in our state and beyond," said Carrie White, assistant vice president for entrepreneurship and innovation. "Through the program, we hope students use these dynamic ideas to problem-solve, think creatively and take on innovative opportunities."
During the 2019-2020 academic year, each Fellow will offer a course in their academic discipline that incorporates exciting new approaches and best practices in innovation, design and entrepreneurship. For example, pharmacy students will be challenged to view themselves as entrepreneurs to promote novel, efficient and accessible care to rural communities, while design and community students will take a comprehensive course on how footwear designers work within the constraints of economics, manufacturing and consumer culture.
The IDEA Fellows program is part of the WVU IDEA Hub, a university-wide network of centers, offices and programs that fosters and supports innovation and entrepreneurship among WVU students, faculty and staff while engaging the statewide community.