WVU Heart and Vascular Institute first in U.S. to enroll patients in innovative national clinical trial for transcatheter mitral valve replacement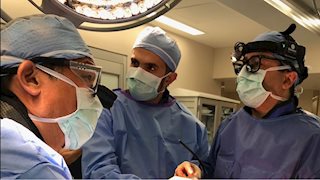 MORGANTOWN, W.Va. – The WVU Heart and Vascular Institute was the first site in the United States to actively enroll patients in an innovative clinical trial to treat mitral valve disease. Vinay Badhwar, M.D., executive chair of the WVU Heart and Vascular Institute and chair of the Department of Cardiovascular and Thoracic Surgery, and Mohamad Alkhouli, M.D., interventional cardiologist and director of the WVU Heart and Vascular Institute Structural Heart Disease Program, will help lead the trial of the new Tendyne transcatheter mitral valve replacement device.
"The WVU Heart and Vascular Institute's participation in the Tendyne SUMMIT clinical trial reaffirms the national leadership and reputation of its team of providers in the area of mitral valve disease management and builds on our prior experience with transcatheter mitral valve replacement," Dr. Badhwar said. "The first two patients who we enrolled in the trial that received this new device are doing well with excellent early outcomes."
Transcatheter valve replacement is used to treat patients with mitral valve regurgitation, a condition in which the mitral valve does not close properly, causing regurgitation of blood back into the left atrium. Mitral valve surgery alleviates symptoms of heart failure, prevents or reverses ventricular remodeling, and decreases mortality in patients with severe mitral valve disease.
This device is different from its predecessors because its design allows for repositioning and complete retrieval to ensure the device is placed correctly during implantations, leading to better patient outcomes. The device offers patients with severe mitral regurgitation a lifesaving treatment option, replacing their native mitral valve without open heart surgery to reduce their heart failure symptoms.
"We are excited to bring this clinical trial to West Virginia and the WVU Heart and Vascular Institute," Dr. Alkhouli said. "This device allows for more options for patients who may not be candidates for an open heart valve replacement procedure. To be able to offer a new treatment for these patients is an incredible potential advance for our patients who may not have other options for treatment."
Transcatheter mitral valve therapy represents the latest frontier and innovation for patients who otherwise would not have options for treatment and represents another first for the WVU Heart and Vascular Institute, whose purpose-driven mission is to bring the most advanced technologies to the state of West Virginia and beyond.
In addition to Badhwar and Alkhouli, the team of implanting physicians included Lawrence Wei, M.D., Partho Sengupta, M.D., and anesthesiologist Matthew Ellison, M.D. Visit WVU Medicine Clinical Advances to watch Dr. Badhwar share details about the Tendyne Mitral Valve System.
For more information: Heather Sammons, Communications Specialist, 304-285-7256