WVU School of Nursing receives final approval to offer four-year nursing degree on Keyser campus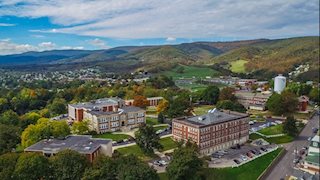 As the result of a required review and site visit by the West Virginia Board of Nursing, the WVU School of Nursing received final approval to offer a Bachelor of Science in Nursing degree at West Virginia University's (WVU) Potomac State College (PSC) campus.
The four year-academic program will be offered starting this fall.
"Receiving the final approval from the WV Board of Nursing indicates our nursing program on the Keyser campus meets the highest approval standing," said Tara Hulsey, Dean of the School of Nursing and Vice President of Health Promotion and Wellness, WVU. "Regardless of the WVU campus our nursing students attend, they can be confident knowing they will receive the same outstanding education and clinical instruction."
"This approval from the WV Board of Nursing was the final step before we open the doors to our new WVU School of Nursing," said Dr. April Shapiro, BSN Chairperson for the Keyser campus. "Receiving this endorsement is a reflection of the high-quality work our new nursing faculty and staff will provide our students."
Nursing students will be part of a 24-student cohort with all classes for the four-year degree available on the Keyser campus.
Students will also have the benefit of learning in a state-of-the-art skills lab and simulation facility where they will practice patient care in a multitude of healthcare scenarios. Classrooms and laboratories will be located in a wing of the J. Edward Kelley Center.
"In bringing WVU's BSN program to the Potomac State College campus, we are addressing the need in the region and the state for additional, highly-qualified, and well-trained healthcare providers," said Potomac State College President Jennifer Orlikoff. "We are looking forward to welcoming our first cohort of students into the program this coming fall and we anticipate that they will find every success."
The curriculum in the first year includes classes in biological, physical, and social sciences as well as the humanities. Upon completion of all pre-requisite classes, students will take six semesters of clinical nursing classes, along with completing a rural clinical practice during their senior year.